Coronavirus (COVID-19) Preparedness Information
Our hospital is committed to providing the highest quality care and ensuring the safety of our patients, employees, providers, volunteers and visitors. We are continuing to monitor the evolving situation with the coronavirus (COVID-19) and are taking the necessary steps to ensure we are fully prepared to care for patients, in accordance with guidance from the Centers for Disease Control and Prevention (CDC) and in partnership with our local and state health departments.
Below are a number of resources to help educate you and your family on COVID-19. For more information on the virus, please contact the health department.
COVID-19 Online Risk Assessment
To help support the health of our community, we are providing access to an online COVID-19 risk assessment developed by the Centers for Disease Control and Prevention (CDC). This tool does NOT provide a diagnosis, and it should NOT be used as a substitute for an assessment made by a healthcare provider.
COVID-19 Resources
Centers for Disease Control and Prevention website: https://www.cdc.gov/
Utah State Department of Health: 385-273-7878
Southeast Utah Department of Health
Recent Updates and Precautionary Measures
As of 10/1/22
At Castleview Hospital, protecting the health and safety of our team members and the patients we serve is our number one priority. Castleview is still requiring masks to be worn inside our facility by patients, providers, employees and visitors for the foreseeable future. We continue to follow recommendations from the CDC that is specific to healthcare facilities. We believe this is in the best interests of our team and the valued patients we serve. We will continue to evaluate our policies based on the situation in our community and will communicate any updates as we have them.
October 26, 2021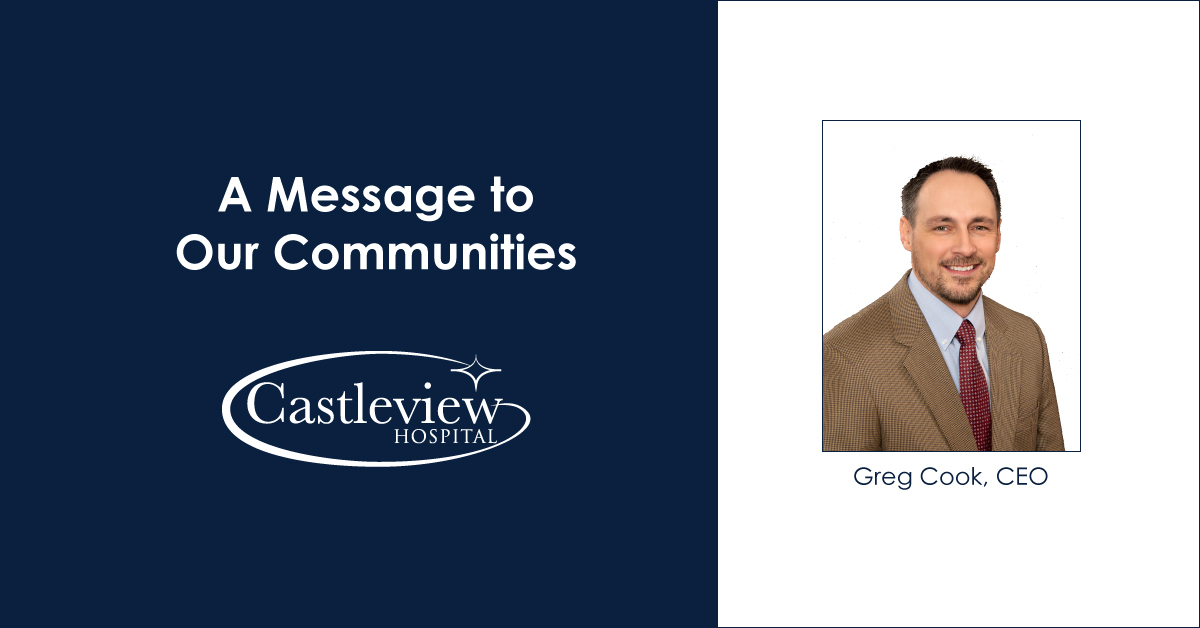 A Message to Our Communities:
More than 18 months into our fight against COVID-19, the pandemic is hitting Castleview Hospital harder than ever. It is disheartening to watch the number of infections climb in our community, knowing that we have tools at our disposal to help bring this nightmare to an end.
Our physicians and staff are doing everything they can to provide the best care possible for each patient, and while our healthcare workers are resilient, they are extremely tired. We are continuing to see more and more COVID-19 patients – most of whom are unvaccinated. Additionally, our resources are strained. Beyond staffing shortages, certain supplies for lab testing, oxygen and monoclonal antibody treatments are becoming more difficult to obtain. All of these are necessary to diagnose and treat COVID-19.
We plead with our community members to seriously consider getting vaccinated. Vaccines are safe and effective, and they are the best way we have to get back to doing the things we love. Vaccines help prevent severe illness and hospitalizations, and they are FREE. Each vaccine administered could mean a hospital bed saved for individuals with chest pain, trauma, stroke, and other critical non-COVID-19 healthcare needs.
Now is the time to do your part so that our hospital does not become even more overloaded. Ways you can help include:
Get a COVID-19 vaccine if you haven't already. Talk to your primary care provider about which vaccine might be right for you, and visit https://www.seuhealth.com/vaccine-scheduling for a vaccine appointment.
Wear a mask indoors or when in large social settings. Masks work to help prevent the spread of infection.
Maintain social distance. Whenever possible, try to keep distance between yourself and others in public settings.
Stay home if you are sick, and keep your kids home if they are sick. Staying home prevents further spread of (any) illness. Don't go to work, School, Church, etc. if you have any symptoms of illness.
If you do test positive for COVID-19 and are at risk for severe illness, ask your primary care physician about monoclonal antibody therapy as soon as you test positive.
Proactively manage chronic illnesses by working with your primary care physician to keep your health on track before these become more urgent health issues.
Finally, do not delay emergency care. Community members experiencing a medical emergency should call 9-1-1 or go to their nearest emergency room for evaluation.
Thank you for doing your part to be an advocate for COVID-19 vaccination; lift up our team and protect our hospital's resources; and support our mission of Making Communities Healthier.
Sincerely,
Greg Cook
CEO at Castleview Hospital
Endorsed by:
Mike Kourianos – Price City Mayor
Brady Bradford – SEUHD Health Officer
Greg Dart - Associate Vice President - USU Eastern
David Hinkins – Utah State Senator
Mika Salas - Superintendent at Carbon School District
Tony Martines – Carbon County Commissioner
Casey Hopes - Carbon County Commissioner
Larry Jensen - Carbon County Commissioner
Lynn Sitterud – Emery County Commissioner
Gil Conover – Emery County Commissioner
Kent Wilson – Emery County Commissioner
Erroll G. Holt – Zions Bank and Castleview Hospital Board Chair
Christine Watkins – Utah State Representative
Travis Engar – Emergency Room Physician
Justin Needles – Carbon County Emergency Manager
September 2, 2021
Visitor Updates:
Due to the rising number of COVID-19 cases and the increased rate of transmission in the area, Castleview Hospital will be enforcing a one well visitor policy for all inpatient units and outpatient areas. Pediatric patients may have two visitors.
Masks are required in all areas of the hospital and visitors must be compliant throughout the duration of their visit
One visitor at a time
All well visitors must be 18 years or older
No visitors are permitted for COVID patients
COVID-19 Testing:
A doctor's order is required to be COVID tested
If you are arriving for a COVID test, drive up to the North entrance, stay in your vehicle and call the phone number on the board
Staff will come out to you for the test
Masks are Required: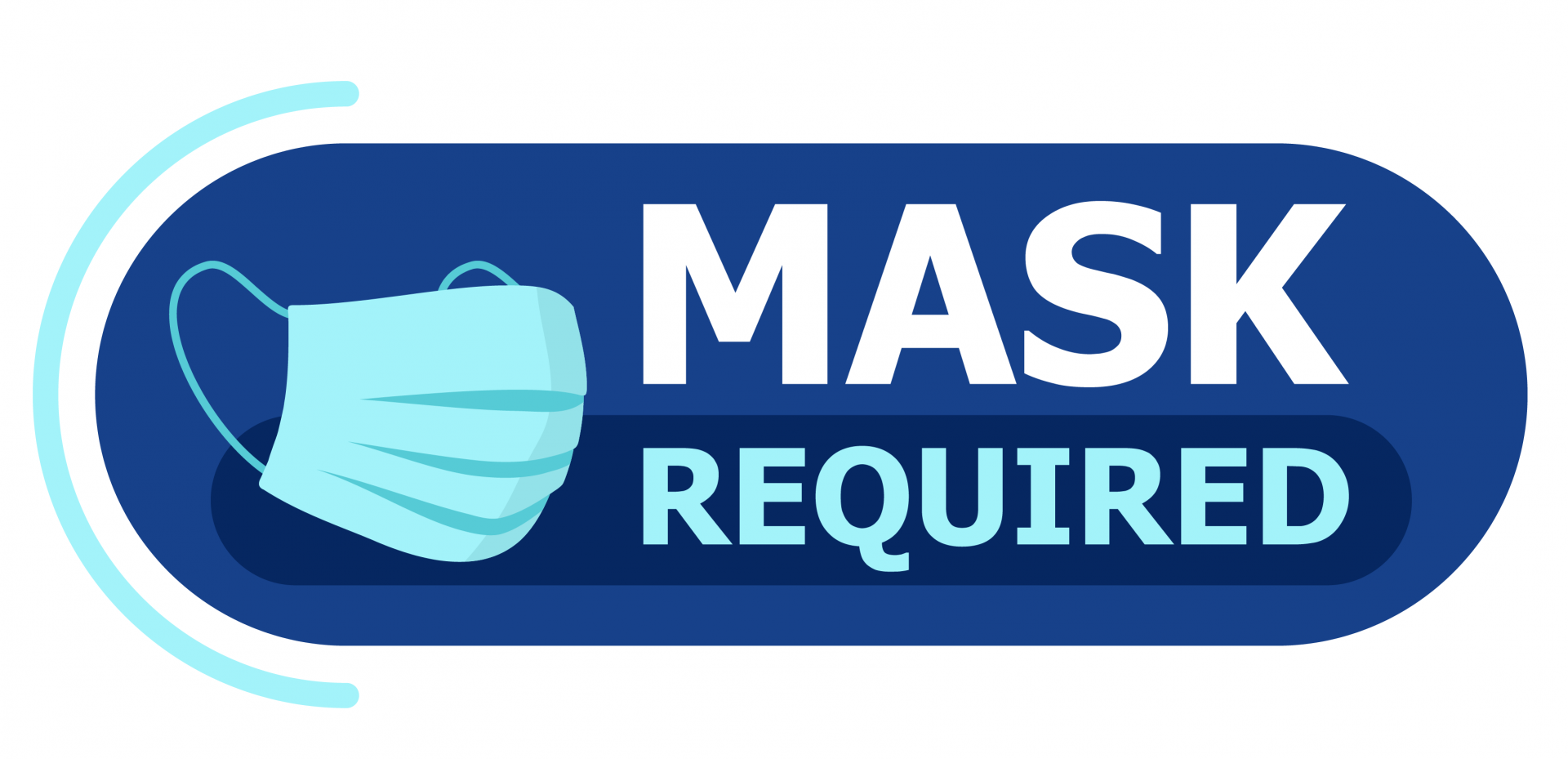 Everyone is required to properly wear a mask while inside the facility. Castleview Hospital also continues effective cleaning and disinfecting protocols.
These protective measures for managing infectious diseases ensure that our facilities are always safe for you and your loved ones when you need care. We appreciate your cooperation as we continue to navigate this pandemic.