Castleview Hospital Names 2023 Mercy Award Winner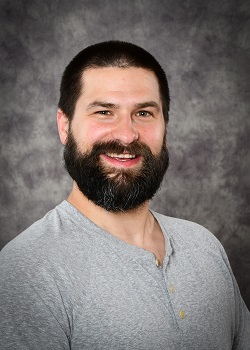 PRICE, UT (May 8, 2023) – Castleview Hospital recently announced that Don Perrizo, RN in Surgery has been recognized as the facility's 2023 Mercy Award winner. The Mercy Award recognizes one employee from each of Lifepoint Health's facilities who profoundly touches the lives of others and best represents the spirit and values on which the company was founded.
The Mercy Award is an annual recognition program that honors the life and contributions of Scott Mercy, Lifepoint's founding chairman and chief executive officer. The award is considered the highest honor a Lifepoint employee can receive.
"At Castleview Hospital, we share Lifepoint's commitment to making communities healthier, and we recognize this is supported by the good work and service of our employees on and off the job," said Greg Cook, CEO of Castleview. "We are extremely proud to recognize Don for his efforts on behalf of our patients and our community. He goes above and beyond each and every day to ensure that every person he encounters receives the highest level of care and compassion."
Don's positive energy brings smiles to those in his presence. He builds people up and holds people to a higher level. Whether this is with patients or his co-workers, he is a shining light that helps everyone be a little better. He is known for sitting with patients to help ease their anxiety, being kind and compassionate.
Outside of work, Don contributes to his church and regularly performs charitable acts of kindness, such as hauling hay and helping co-workers, neighbors, and friends in numerous ways. One example includes this winter when Don knew a co-worker was working very long shifts and he shoveled their sidewalks and driveway to help without taking any credit.
The Castleview team is grateful for everything Don brings to the facility and thanks him for all he does to help patients.
Each facility winner, including Don, will be considered for Lifepoint's 2023 companywide Mercy Award. The companywide winner will be announced this summer and honored during a ceremony in Nashville, Tenn., in August.
About Castleview Hospital
For over 40 years Castleview Hospital has served Carbon and Emery counties and the surrounding area with inpatient and outpatient services at its 39-bed facility and physician practices. The hospital also includes Emery Medical Center, a family practice and urgent care clinic in Castle Dale, Utah, an Urgent Care in Price, UT and Pinnacle Peak Pharmacy. Services range from emergency care to labor and delivery to surgery and many other specialties. Castleview Hospital maintains a Gold Seal of Approval® from The Joint Commission, is an Accredited Chest Pain Center, a Stroke designated facility, a LifePoint Health National Quality Leader, has been named a Top 100 and Top 20 rural and community hospital several times and is a 5-star CMS rated hospital.
Read All Posts